Archive for October 2012
But when a man suspects any wrong, it sometimes happens that if he be already involved in the matter, he insensibly strives to cover up his suspicions even from himself. And much this way it was with me. I said nothing, and tried to think nothing.

At last it was given out that some time next day the ship would certainly sail. So next morning, Queequeg and I took a very early start.

Chapter XX: All Astir.
Google ist mal wieder viel schlauer als wir. Deren Doodles werden jeweils erst am nächsten Tag verlinkt und kommentiert, aber bis morgen warten war immer unsere leichteste Übung.
NT am nächsten Tag: Inzwischen wurde das Bild so pünktlich wie getreulich verlinkt, nur nicht kommentiert; das Ereignis scheint selbsterklärend. Und das Bild, das sie gebaut haben, ist doch ein ganz hübsches, finde ich.
Am 18. Oktober 1851 erschien bei Richard Bentley in London The Whale in drei Bänden.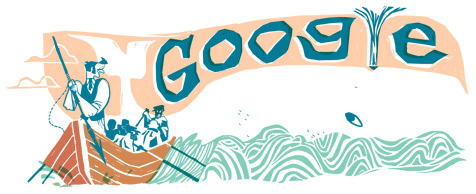 Mein Angebot steht.
Bild: Google Doodles: 161st Anniversary of Moby Dick's First Publishing, 18. Oktober 2012.